For our next bit of Shogun 2 DLC, we've decided to do something a little bit different…
We've often said before that blood is something we'd like to do if we feel the setting's right and it's appropriate. That's always been hindered by a key hurdle: inserting blood and gore into our games would raise the age rating of our titles.
Blood and gore is absolutely right up there in the top-three feature requests from the community (mod tools and commanding more than 20 units per battle are the other two big ones, if you're interested). We get hundreds of requests a year for us to implement blood and gore into our games – and we've been desperate to get the opportunity to bring this feature to the Total War series.
So, we took the decision to create a new piece of DLC and have it age-rated separately. Enter stage right, the Blood Pack. DLC allows us the flexibility to individually age-rate releases, so we're finally able to bring the visceral, vicious effects of battle to you guys. Of course, being DLC, it's also entirely optional. If you have it and a friend doesn't, you'll still be able to play multiplayer together… except you'll be experiencing blood splattering awesomeness and they won't.
This being Japan – and with Shogun 2 being so heavily inspired by Japanese cinema – we couldn't take this opportunity by half-measures. Expect all-out gore – from fountains of blood to fully-fledged dismemberment. This isn't a DLC pack for the weak of heart.
Jamie Ferguson, Lead Designer for Shogun 2, tackled the challenge with gusto:
"With the Blood Pack we were going for a Kurosawa, Zatoichi and Tarantino-esque level of splatter-fest fun that evokes a number of  the Japanese films set in the medieval period.
"This might seem strange for a game that prides itself on a certain level of realism, but we wanted the player to be able to tell what was happening at a reasonable distance from the action and be entertaining. By turning up the gore factor we found it was far more entertaining and had a certain style to it too."
You can buy the Blood Pack now right here.
The Blood Pack will also be compatible with the upcoming Fall of the Samurai and any existing or future Shogun 2 DLC, as well as the core game.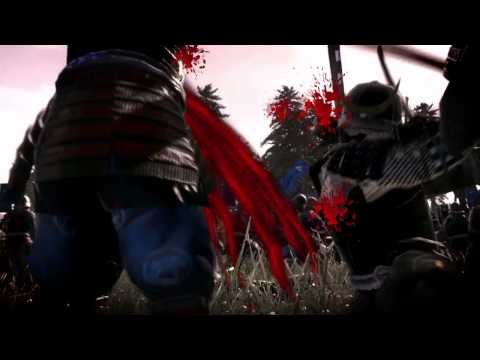 ***
Also out today, and available on Steam too, is the Hattori Clan DLC. For those of you who missed the Limited Edition, this is a great chance to pick up this powerful clan and complete your Shogun 2 collection. They have the most powerful ninja unit in the game, and you'll get yourself a small XP boost and some additional Koku to help you on the way in your conquests.
You can the Hattori DLC for only a few pounds, euros or dollars right here.