We're delighted to say that Total War: Shogun 2 has brought home a raft of prestigious awards in the end-of-year round-ups, which the team here at CA are absolutely ecstatic about. Here's the full run down of what we've won just in the past few days.
***
PC Gamer "Game of the Year" Awards, 2011
Strategy Game of the Year

PC Gamer UK gave Total War: Shogun 2 an epic 92% in their review of the game, and they continue to show the love with a terrific write-up in this month's issue of the magazine. Described as "high drama to stretch your grey matter", Gamer pronounce Shogun 2 as "a spectacular return to form".
They go on to describe the Total War games as a "story-engine": "Not only do they offer deep and difficult decisions about how to paint the campaign map your colour, but they also entertain you with your own genius. That time when you hid an army and engineered an ambush. That time when your veteran clan leader dismounted, and held the line while thousands of peasants rolled into the front gate. That time when… you've got the stories. You remember."
Thanks for that, chaps. We're really proud of such an accolade.
– –
Kotaku Best Game Music of 2011
Total War: Shogun 2
Jeff van Dyck was back for Shogun 2, and he's been steadily building the accolades for the powerful Japanese-themed soundtrack that accompanied the game. Kotaku have given us a warm-glow-inducing commentary on their "Best Game Music of 2011″ feature, waxing lyrical about the atmosphere Jeff's soundtrack stirs in the air.
"Shogun 2 draws you into the Sengoku period of Japanese history until you're up to your eyeballs in it", they said, "giving you a sense of being and place that most other strategy games can only dream of." High praise indeed.
Kotaku go on to say, "the end result is a soundtrack that, if you close your eyes, not only transports you back to 16th century Japan, but perfectly conveys the scope and scale of the Total War games themselves".
A massive pat on the back from the whole studio to Jeff. He absolutely deserves it for the tireless hard work and relentless talent he exhibits with every soundtrack he writes.
 – –
GameSpot Game of the Year Awards 2011
Best Strategy Game
GameSpot pile on the third major accolade of the Christmas season, awarding Shogun 2 the Best Strategy Game award in their annual gongs.
"It's just such an immense and rich package", said Gamespot's Maxwell McGee.
The website's Kevin VanOrd added, "You've got these huge swathes of units controlled by each player, going after the enemy, and you just don't see anything like that in any other strategy game. It's just a wonder to behold".
You can check out the video below to see exactly what GameSpot said: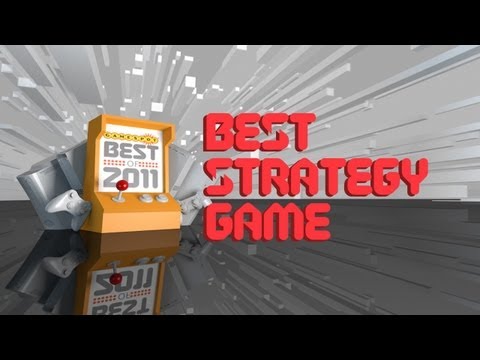 – –
IGN Best of 2011
Nominated: Best Strategy Game
"Combining turn-based campaign map management with sprawling real-time battles between thousands of troops, there's something here for every kind of strategy fan.
"Not only does Shogun 2 deliver the best visuals of the series, lots of strategic and tactical depth, and tons of options to customize your faction leaders through skill trees to gradually win over 16th Century Japan, but includes an immense multiplayer component."
 – –
The Metro
Class of 2011
And the accolades just keep on coming! We've also been listed in The Metro's Class of 2011. For our international readers, The Metro is a free newspaper in the UK which has a huge circulation, so we're pretty proud of getting in there.
 – –
Strategy Game of the Year
GameTrailers Awards, 2011
We're hugely honoured to have been listed in GameTrailers' awards of 2011, and to pick up yet another Best Strategy Game award, topping off an amazing seasonal raft of trophies heading our way.